Programming Windows, Fifth Edition
by Charles Petzold
Hardcover: 1479 pages
Publisher: Microsoft Press; 5 Har/Cdr edition (November 11, 1998)
Language: English
ISBN-10: 157231995X
ISBN-13: 978-1572319950
Book Description



Programming Windows 5th Edition
Look it up in Petzold remains the decisive last word in answering questions about Windows development. And in PROGRAMMING WINDOWS, FIFTH EDITION, the esteemed Windows Pioneer Award winner revises his classic text with authoritative coverage of the latest versions of the Windows operating system – once again drilling down to the essential API heart of Win32 programming. Topics include: * The basics – input, output, dialog boxes * An introduction to Unicode * Graphics – drawing, text and fonts, bitmaps and metafiles * The kernel and the printer * Sound and music * Dynamic-link libraries * Multitasking and multithreading * The Multiple-Document Interface * Programming for the Internet and intranets Packed as always with definitive examples, this newest Petzold delivers the ultimate sourcebook and tutorial for Windows programmers at all levels working with Microsoft Windows 95, Windows 98, or Microsoft Windows NT. No aspiring or experienced developer can afford to be without it. An electronic version of this book is available on the companion CD.
* Complete coverage of Windows programming fundamentals – time-tested and unrivaled
* An excellent tutorial and reference for Windows programmers – from beginners to experts
About the Author
Charles Petzold
has been writing about personal computer programming since 1984 and has been programming for Microsoft Windows since 1985. He wrote the first magazine article about Windows programming in the December 1986 issue of Microsoft Systems Journal. Between 1986 and 1995, he wrote the Environments column for PC Magazine, which introduced his readers to many facets of Windows and OS/2 programming.
Programming Windows was first published by Microsoft Press in 1988 and has since become regarded as the best introductory text on the subject. In May 1994, Petzold was one of only seven people (and the only writer) to be given a Windows Pioneer Award from Windows Magazine and Microsoft Corporation for his contribution to the success of Microsoft Windows.
In the fall of 1999, Microsoft Press will publish Charles Petzold? first book for a general audience. Tentatively entitled Code: The Hidden Language of Computer Hardware and Software, this book is a unique introduction to the nature of digital information and how computers work with that information.
Note: The codes to the book are also included in the download link.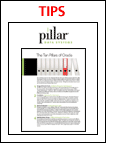 "Ten Pillars of Oracle"
Pillar Data Systems will give you ten good reasons to pair your Oracle Environment with the Pillar Axiom.
The world-class power of Oracle integrated with the world's most efficient storage solution from Pillar Data Systems results in the most cost-effective, highly available networked data warehouse available today. The close collaboration between Pillar and Oracle includes complementary products, certification processes, joint integration efforts, and expert services.
Offered Free by: Pillar Data Systems
Programming Windows, Fifth Edition (Microsoft Programming Series)
Download Links
Normal Download
Link1
,
Link2
Fast Download
Link1
,
Link2
,
Link3
Note: We do not host these ebook files on this server. If you have any complaint of copyright, please leave a comment. We'll remove the download link immediatly!
Direct Download Programming Windows, Fifth Edition
Fast Download Programming Windows, Fifth Edition
Watch youtube to earn money!